A New Nd:YAG
BASED MULITIPLATFORM
HIGHEST POWER
PICOSECOND LASER
MULTI PURPOSE
FRACTIONAL ER:YAG LASER
INTELLIGENT
MULT-PLATFORM
MULTIPURPOSE IPL DEVICE WITH PRECISE TREATMENT CONTROLS
A LASER
FOR ALL SKIN TYPE
MULTIPURPOSE
FRACTIONAL CO2 LASER
LED PTHOTERAPY FOR HEALING, ACNE, RECOVERY, PAIN MNG.
TRANSFORM YOUR PRACTICE WITH THE ROBUST eCO2
Lutronic's eCO2 is the premier fractional ablative laser that delivers the full spectrum of resurfacing treatments to your busy practice. You will appreciate how easy to use and reliable the system is while your patients rave about their outcomes.
MINIMAL DOWNTIE, IMPROVED PATIENT COMFORT, INCREASED SAFETY
The eCO2 features the patented Controlled Chaos Technology (CCT™), an algorithm to pseudo-randomly deliver each micro laser beam and by placing maximum distance between sequential beams the system eliminates cross thermal diffusion between adjacent Micro-ablative Columns (MACs).
This allows the tissue to maximize heat dissipation between shots. The result is an increased safety profile with a reduction in post-operative discomfort and faster healing time leading to unparalleled fractional.
ULTIMATE CONTROL OVER ENERGY DELIVERY
DYNAMIC MODE
Dynamic Mode completely eliminates the checkerboard look of other CO2 systems and provides clinicians with a more comfortable operation by allowing the user to 'Air Brush' the energy. Whether you are treating large areas or just feathering to eliminate demarcation lines, Dynamic Mode provides your patients with a more natural look.
STATIC MODE
Static Mode allows for traditional 'Stamping' which allows users to treat scanned areas of 18 x 18 mm with selectable density options to enable precise delivery of laser energy without the need for multiple passes other systems require.
QUICK-CHANGE TIPS WITH AUTO-RECOGNITION
From ultra-deep to superficial ablation, the eCO2 has the features you need to address a broad range of clinical conditions. The ultra-fast quick change tips come in a choice of three spot sizes, 120, 300 and 500 μm, allowing you on-the-fly customized treatments. The eCO2's tip auto-recognition feature automatically changes treatment settings to adjust for the change in spot size. Combined together, the advanced technology, quick-change tips and safety features ensure the ultimate control for the best outcomes.
120 µm Spot Size
Scars

Deep Wrinkles

Tightening
300 µm Spot Size
Large Pores

Skin Texture

Luminosity
300 µm Spot Size
Large Pores

Skin Texture

Luminosity
TThe eCO2 sets itself apart from the
competition with ultra deep ablation
depths. eCO2 is proven to deliver up
to 2.4 mm of ablation depth.
CONVENTIONAL HANDPIECE
eCO2 PLUS includes the 0.2 mm-1.0 mm zoom handpiece for incisional & excisional surgical procedures to fully ablative skin resurfacing needs.
SUPER-PULSE AND CHAR-FREE (ULTRA-PULSE) MODES
With the ability to control your thermal damage, you can further adjust and customize treatments to your patient's needs.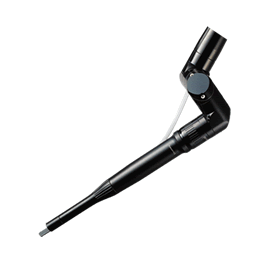 ZOOM Handpiece
Beam size: 0.2 mm - 1.0 mm
Two optional incisional handpieces are also available:
F50 Micro Handpiece
• Beam size: 500 µm
F100 Standard Handpiece
• Beam size: 1000 µm
WHY eCO2?
Patients are attracted to low risk, minimal downtime treatments
Controlled Chaos Technology creates pseudo-random microwound patterns to minimize heat build-up, minimize downtime, increase safety and maximize patient comfort
Ergonomic and compact design
Easily adjust treatment parameters through intuitive and user-friendly interface
Capable of delivering fractional, full field ablative, incisional and excisional laser treatments
Two energy delivery modes (dynamic and static) further increase versatility and control over outcomes
No consumables reduces operating cost and improves ROI